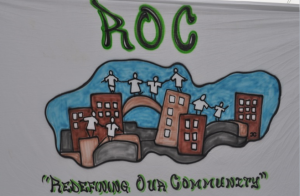 "We strive to Redefine Our Community through positive community engagement. We accomplish this by participation in community planning, organization and providing ongoing activities, programs, events and activities to engage the community. This will increase unity, peace and raise the quality of life in our community."
Redefining Our Community is an organization of dedicated residents from various streets within the Dorchester community who no longer tolerate the stereotypes and misconceptions associated with our community. Too often, through word of mouth and negative media, Dorchester is misrepresented and stigmatized as an unsafe, dangerous place lacking beauty and goodness. However, our mission is to redefine that falsehood. ROC will not allow others who live outside our community to speak for and/or define us. We have our own story that we intend to tell. We care about where we live. Dorchester is beautiful and those of us who live here want a safe clean environment for our families to live, work and attend school. ROC is committed to change.
ROC's MISSION:
To build a community that is a beautiful, clean and a safe place to live, work, pursue life goals and raise a family.
ROC's VISION:
Through community meetings, advocacy and informed action planning, we will reduce crime, increase neighborly connections and provide events, activities and programs that support community building, vitality and peace.
ROC's VALUES:
Community (People and Places)
Harmony (Peace, Enjoyment and Fun)
Vitality (Economic, Education and Culture)
Solidarity (Unity, Power and Strength)
We care about where we live and we will not allow others who do not live in our community define who we are. That is why we are Redefining Our Community!